With the cost of flying outpacing even regular inflation, many people are looking for the cheapest fare they can find in whatever way they can.
Some spend hours scrolling through flight aggregators while others are convinced that traveling on a given day is the key to scoring that elusive "flight deal." One report by Expedia  (EXPE) – Get Free Report found that booking a flight from North America to Europe on in the middle of the week and 10 months from the travel date can save you an average of $121.
Another very common strategy is to go with a budget airline. Formerly relegated to short distances between nearby European or North American cities, an increased number of low-cost carriers are going transatlantic.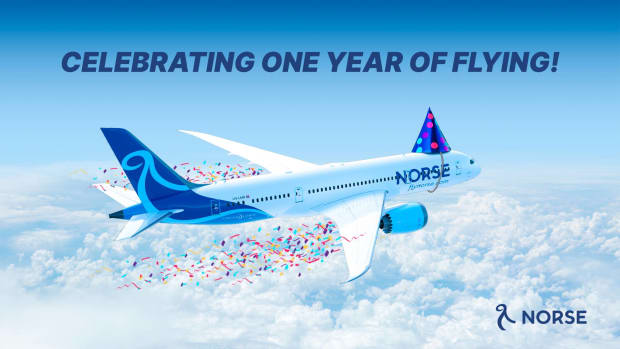 Here's How You Can Score That $129 Flight to London (or Paris And Oslo)
A new Icelandic airline called Play launched in 2022 with flights between Washington, D.C., and Reykjavik for $99 each way while a Northern Ireland airline called Fly Atlantic is preparing to launch as a "bridge airline" between North America and Europe. By 2028, it hopes to have 35 routes going in and out of Belfast.
Established in 2021, Norse Atlantic Airways (NRSAF) has also been rapidly establishing itself as a low-cost transatlantic carrier. Since taking its inaugural flight between New York and Oslo on June 14 of last year, the Norway-based airline launched 12 routes between the US and European cities such as Oslo, London, Berlin, Rome and Paris.
To celebrate the one-year milestone, Norse Airways is temporarily slashing the price of some of its routes to what at its lowest could be $129 each way.
Those traveling from New York's John F. Kennedy airport or Boston's Logan International Airport to Oslo can score one-way flights for $129 while similar flights between Miami and Orlando to London can be purchased this summer for $159.
The airline uses Boeing 787 (BA) – Get Free Report Dreamliner planes for all its routes.
The most expensive flight in the promotion is the $189 route between JFK and Rome's Fiumucino Airport but customers will also need to pay applicable taxes and airport fees on all of the deals.
'A Busy Year Ahead' For Both Travelers And Airlines
"This milestone not only reflects the hard work and dedication of our entire team but also highlights the growing demand for affordable, high-quality transatlantic travel," Norse Atlantic Airways CEO and founder Bjorn Tore Larsen said in a statement. "We are grateful for the trust our passengers have placed in us and we are looking forward to a busy year ahead."
To take advantage of the deal, travelers need to go on flynorse.com and book the flight by June 21 for travel during the summer. Another key caveat is that one can't just pick any date one wishes — the $100-mark fares are only available for travel during certain weekdays while the fare rises to the regular $300 or $400 one pays for similar routes on different days without accounting for baggage.
Still, the deal can be a way for those with flexible schedules to save money — along with being cheaper regardless of the airline one chooses, traveling on a less popular day can also help one escape the airport chaos amid what many travel experts expect to be another peak summer travel season.
Last year, a combination understaffing and sky-high demand caused some European airports to put "caps" on travelers allowed to leave on any given day to mitigate what in many cases were airport lines of several hours.
Source : The Citizen