One Tesla model is Europe's overall best-seller this year in any passenger car category.
Sales of EVs surpass sales of diesel models for the first time in Europe, with battery-electrics holding a 15.1% share of the market, while diesels hold 13.4%. (Audi e-tron GT pictured above.)
Plug-in hybrids have seen gains and losses over time in different European countries, but hold 7.9% market share on the continent overall.
The Tesla Model Y has been Europe's best-selling model in any vehicle category in the first six months of 2023.
---
Diesel cars have been popular in Europe for decades, where gasoline prices have traditionally been rather high compared to many other regions. Finding a small and inexpensive hatch in Europe that isn't diesel has been a tall order for some time, and the same went for large sedans, especially in the UK. Even the Volkswagen diesel crisis that affected a number of brands had scarcely tempered the car buying public's appetite for diesels in some individual markets.
But for the first time ever, sales of new battery-electric models in the European Union have edged out those of diesel models, with June 2023 data showing 15.1% market share for BEVs, according to data published by Europe's auto manufacturer association ACEA. That's a gain of 66.2% compared to the same month in 2022, when BEVs commanded 10.7% of the market in the EU.
Still, the growth for BEVs has not been achieved equally across all the EU countries, with the Netherlands seeing a 90.1% gain, with Germany and France in second and third places with 64.4% and 52.0% gains, respectively.
Overall, gas-engined models in Europe still lead the pack with 36.3% market share, while hybrids are in second place with 24.3% of the market.
Another trend worth noting is that plug-in hybrids in some individual EU markets have actually declined over the past year, by as much as 39.2% in Germany. Elsewhere PHEVs have seen dramatic gains, such as in Spain, where their market share has grown by 51.7%.
But is this solely a reflection of battery-electric models' popularity, or more a consequence of the regulatory war against diesels?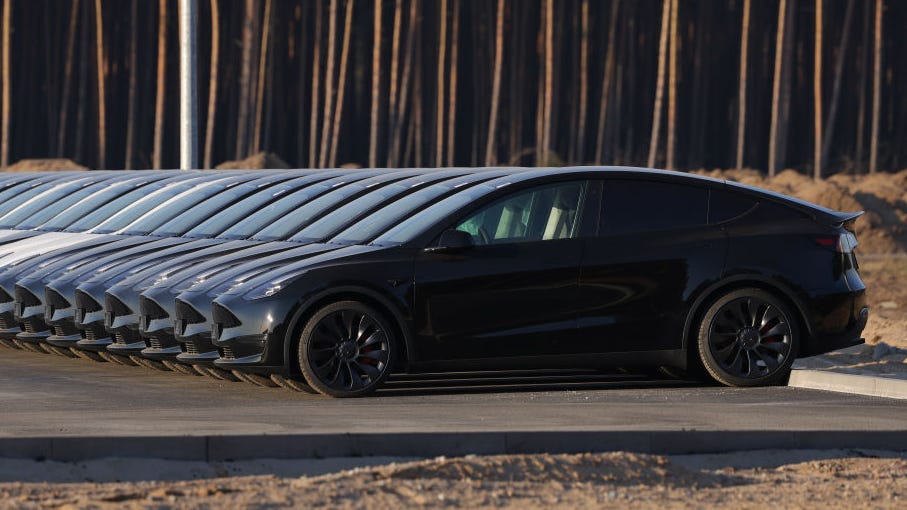 Tesla has been producing models just outside of Berlin, Germany, for a little over a year.SEAN GALLUP//GETTY IMAGES
In the past few years a number of large cities in Europe have experimented with bans on diesel models, keeping them out of city centers, ahead of a union-wide target for zero-emission car sales by 2035, adopted by the European Parliament earlier this year. Also hindering demand for diesel was Volkswagen's own crisis, now nearly a decade old, that also affected brands such as Audi, Skoda, and SEAT.
Still, it's too early to completely write off diesel models in Europe.
For one thing, despite an overall decline diesels have actually gained traction in some standalone countries such as Romania, where they saw a 22.4% gain last month, as well as Germany. We wouldn't doubt diesel's ongoing popularity in a number of smaller Eastern European markets either, whether inside or outside the EU.
When it comes to BEVs, another curious dynamic worth noting is that a number of popular electric models aren't even produced by European automakers. Tesla's Model Y has been the overall best seller in any category in the first six months of 2023, easily dominating the BEV market, and a number of Chinese-made EVs are currently on sale as well. Neither trend is something that many market analysts had seen coming just a few years ago.
Source : Auto Week