Temperatures remain high as hailstorms hit northern Italy, with fourth heatwave forecast to hit southern Europe next week
Hailstorms have hit northern Italy as near-record temperatures begin to ebb, but forecasters have warned of a fourth heatwave hitting southern Europe next week, with temperatures of up to 48C.
More than 110 people had sustained injuries after the north-eastern Italian region of Veneto was hit on Thursday by extreme weather, including large hailstones, said the governor, Luca Zaia, who declared a regional state of emergency for the areas affected.
In Croatia, a firefighter died on Thursday during a storm that swept the Balkans after the heatwave, taking the death toll to six, officials said.
Zaia told Italy's news agency Ansa: "The hail that fell was absolutely out of the ordinary, with stones of ice that in some cases had diameters of over 10cm."
Italy remained in the grip of its third heatwave of the summer even though the peak passed on Wednesday.
Rome's civil protection department had set up 28 "heat help points" around the city to try to prevent residents and tourists having health problems in the extreme temperatures, Ansa reported.
Some hospitals registered a 20%-25% increase in numbers arriving at emergency units with dehydration or other illnesses caused by heat exposure.
The national association of Italian alpine guides said the intense heat of recent days could cause landslides in the glaciers in the north of the country, while in Matera, local authorities had banned the circulation of horse-drawn vehicles, including carriages and buggies generally used by tourists, to protect the animals.
In Sicily, where the European record of 48.8C was registered in August 2021, the mercury climbed to 46C-47C on Tuesday and Wednesday in the area between Mazara del Vallo, in the province of Trapani, and Sciacca, in Agrigento province, according to data from the ilMeteo.it website.
"Try working in the kitchen in this heat," said Gaetano Serio, a chef at Osteria Lo Bianco, in Palermo. "You have to think that if it's 44C outside, in the kitchen, it's at least 50C. It's really unbearable."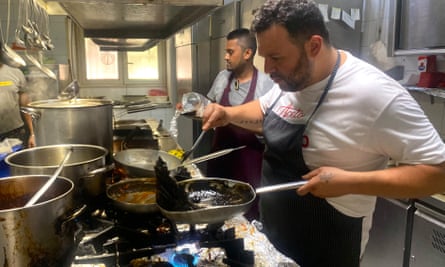 The CGIL union said temperatures in factories in the southern region of Basilicata were nearing 40C. "The arrival of the heat is a serious problem for workers because it puts their health and safety at risk," it said. "We are getting many signals from several factories across the region. For this reason we ask workers to turn to their unions if health and safety guarantees are not being met."
Unions also expressed concern for agricultural workers, most of whom were seasonal workers and migrants from sub-Saharan Africa, living in squalid tent camps and being paid derisory wages, often with illegal contracts.
Farm workers in Marsica, Abruzzo, were working from 4am-11am to avoid the hottest hours, while factory workers across the country threatened to strike over the extreme heat.
Temperatures were expected to reach almost 48C in Sicily and Sardinia, according to data from the weather website ilMeteo.it released late on Thursday afternoon.
In Greece, the fire service intensified water drops to the west of Athens, where a huge blaze was contained overnight. Seven firefighting planes and nine helicopters were operating in the area, including four planes sent from Italy and France as part of a European Union support mechanism, Associated Press reported.
The Greek prime minister, Kyriakos Mitsotakis, said the fire service and civil protection authority would remain on alert as a new heatwave moved eastward across Greece. Temperatures were expected to reach 45C on Sunday.
"The hard times are clearly not over yet," Mitsotakis said. "We are facing another heatwave and a possible strengthening of the winds. So, absolute vigilance and absolute readiness are required over the next few days."
A state of emergency was declared on Thursday on the island of Rhodes, where evacuation orders were issued for several mountain areas.
Authorities in Athens said archaeological sites, including one at the Acropolis, would be closed during the hottest hours of the day because of the new heatwave.
The risk of fires in Spain has remained at high or very high levels. A Moroccan man aged 42 died from a heat-related issue after collapsing on a street in Murcia on Wednesday, the public news agency EFE said. Temperatures in that region of south-east Spain peaked at 44C.
Málaga hit 44.2C, matching an all-time record for the southern coastal city, Spain's weather service said. Temperatures were forecast to fall on Friday before rising again on Sunday, when national elections are being held.
Like many Mediterranean countries, Tunisia is experiencing temperatures of 6C-10C above the average for this time of year. Firefighters in the country are battling a major blaze that has raged for two days in a pine forest near the border with Algeria, a civil defence official said on Thursday.
Regional civil defence director Abdel Laabidi told AFP that about 470 hectares (1,100 acres) of forest had already burned, and that firefighters and an army helicopter were still fighting the flames.
Source : The Guardian