Greek firefighters continue to battle wildfires and 17 areas of southern France remain on red alert
Barcelona is handing out water and caps to homeless people and France has recorded its highest overnight temperature since records began, as firefighters in Greece grapple with major wildfires in another brutal European heatwave that has pushed temperatures past 43C (109F) in some locations.
In the Catalan capital, the temperature at midnight on Wednesday was close to 30C after daytime temperatures hit 38.8C, breaking the previously recorded high of 37.4C set in 2010. Humidity is also high, adding to a sensation of suffocating heat.
Text messages have been sent to 3,600 vulnerable people advising them how to protect themselves from the heat and directing them to their nearest "climate refuge", air-conditioned spaces with drinking fountains.
The city has launched an emergency plan to water its 310,000 trees after a palm tree fell and killed a young woman this month.
Spain has been hit by four successive heatwaves since June, with temperatures in excess of 40C expected across the country on Thursday. Cooler weather is forecast for the weekend except for the south-east.
Not even the usually temperate northern regions have been spared, with the Basque Country and Cantabria recording 40C and above. Several people were admitted to hospital with heat-related conditions in Bilbao as the thermometer registered 43C.
The combination of heat and drought has put all of Spain on high alert for wildfires. Now mostly under control, the largest this year, on Tenerife, consumed 15,000 hectares (37,000 acres) of woodland.
The Canary Islands' regional president, Fernando Clavijo, said on Thursday the blaze had "not gained a single square metre" for the first time in over a week. Smaller fires have broken out in Castilla y León in north-west Spain and many public parks and nature reserves are closed.
Two consecutive hot and dry summers are also affecting Spain's grape and olive harvests. Spain is the world's largest producer of olive oil but last year's crop was down by 50% and this year's is expected to be as bad. The price of top-quality extra virgin olive oil is close to double that of a year ago, resulting in a 50% drop in sales.
In Greece, firefighters continued to battle strong winds and hot, dry conditions to try to bring dozens of wildfires under control near the border with Turkey and on the fringes of Athens.
The blazes have killed 20 people over the last week, including 18, thought to be migrants, whose bodies were found by firefighters near a shack in a burnt forest area in the Evros region near the north-eastern city of Alexandroupolis.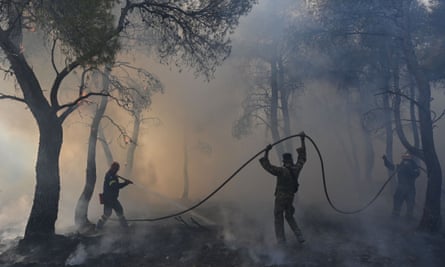 According to the EU's Copernicus satellite observation service, the Alexandroupolis fire had burned through more than 72,300 hectares (178,660 acres) by Wednesday, making it one of the largest on European soil in recent years.
Another large blaze burned for a second day on Mount Parnitha, in the largest forest adjoining Athens, and a third burned in Boeotia, north of the capital, where a 1,000-year-old Unesco-listed Byzantine monastery narrowly escaped the flames.
A fire department spokesperson, Yiannis Artopios, said there was an "explosion of fire" in a forest ravine early on Thursday that renewed the threat to inhabited areas, while Greece's climate crisis and civil protection minister, Vassilis Kikilias, said arson was to blame for some of the fires near Athens.
Nine fires had been lit in the space of four hours on Thursday in the area of Avlona, in the northern foothills of Mount Parnitha, Kikilias said, telling the arsonists: "You are committing a crime against the country. You will not get away with it."
Seventeen departments in southern France remained on red alert for extreme heat after several southern towns and cities hit their highest recorded temperatures on Wednesday and Thursday, including Carcassonne (43.2C), Toulouse (42.4C), Albi (42.3C), Lyon (40.9C) and Chambéry (39.9C).
The country recorded its highest average late-summer temperature – measured at 30 weather stations around France – on Wednesday at 27.5C, more than 6C above the norm, while the Mediterranean town of Menton registered mainland France's record-highest overnight temperature, at 30.4C.
Source : The Guardian