Milan has registered the highest average daily temperature for the past 260 years, its regional environmental protection agency, known as ARPA, said Friday, as much of Italy grapples with a heat wave.
The Milano Brera weather station recorded an average 91.4 degrees Fahrenheit on Wednesday, the highest since it started registering temperatures in 1763.
The northern Italian city's previous record, of 91 degrees, was set in 2003, when a killer heat wave left more than 70,000 people across Europe dead.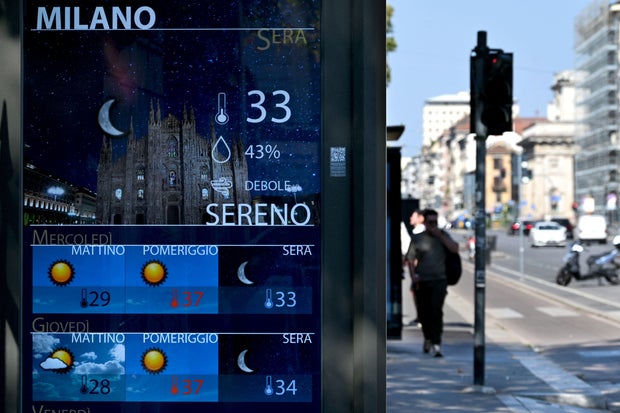 Milan also recorded the highest minimum temperature on Thursday at 84 degrees, ARPA said.
ARPA said the Italian Alps have also been hit by "intense and abnormal" temperatures, but said the heat wave is about to break, with heavy thunderstorms expected in the next few days.
Emissions of greenhouse gases are enabling increasingly intense and long-lasting heat waves, especially in Europe, which the World Meteorological Organization says is the world's fastest-warming continent.
This summer, Spain has been sweltering under its fourth heat wave of the season, while Greece is struggling for the second time in a month against major wildfires.
The sizzling temperatures experienced by several countries in southern Europe over the past days are part of a series of ferociously hot, dry summers caused by climate change.
Heat waves are among the deadliest natural hazards, with hundreds of thousands of people dying from preventable heat-related causes each year.
Source : CBS News