PARIS —
Pausing during an early morning walk in northeastern Paris, Patrick Street assessed the fallout of the Hamas attack on Israel, thousands of miles away, which ruined the tail end of Jewish Sukkot celebrations with his family.
"There's no limit to the cruelty," said Street, who has family in Israel, of the Hamas strikes that killed hundreds of Israelis— even as he recalled previous antisemitic attacks in France.
"It's just gratuitous hatred," he said. "Kill just to kill."
As leaders across Europe condemn Hamas' assault and express solidarity with Israel, Jews like Street worry about the potential reaction at home — in a region that is no stranger to Islamist attacks. So do some French Muslims, as the death toll mounts in both Israel and Gaza, and the Israeli government mounts a fearsome counterattack in the Palestinian territory.
In countries like Italy, Spain, Germany and Britain, governments are tightening security for Jewish institutions, banning pro-Palestinian demonstrations for fear of violence and calling for zero tolerance against antisemitism.
European cities have also held rallies for peace and the Israeli victims in Saturday's early morning attack by Hamas. And fears are mounting that a spreading conflict in the Middle East could have effects on European soil.
"No violence, no riots and no hatred on German streets," wrote the Central Council of Jews in Germany, whose Jewish population numbers about 100,000. The Council said it was in "intensive contact" with German authorities.
Concern about a potential uptick in violence is especially high in France, home to Western Europe's largest populations of Jews and Muslims — and where a raft of antisemitic attacks over the past two decades helped drive thousands of Jews to resettle in Israel.
"The fear is real," said Michel Serfaty, a French rabbi who heads a Jewish-Muslim friendship association, noting especially the country's longstanding fight against radical Islam. "We are trying to stay serene."
For now, authorities are playing down those concerns.
"There is no blatant threat" to France's Jewish community for the moment, French Interior Minister Gerald Darmanin told a local radio station Monday. Still, he described roughly a dozen antisemitic acts that had been registered over the weekend. Police have been dispatched to guard Jewish schools and synagogues across the country.
Yonathan Arfi, president of the Representative Council of Jewish Institutions of France, or CRIF, similarly said he was not "excessively worried" about attacks against the roughly half-million Jews in the country.
Even so, "we are vigilant," Arfi told France Info radio, of a potential uptick in violence by terrorists or other assailants. "In their eyes," he added, "attacking French Jews is a way of doing their share in the fight against Israel."
On Monday, thousands of people gathered in Paris in support of Israel, with others held elsewhere in France. The rally was attended by an array of French politicians who have largely deplored the Hamas strikes.
A rare holdout, the far-left France Unbowed Party, has been blasted for qualifying the Hamas attacks as taking place within "intensifying Israeli occupation policy." French Prime Minister Elisabeth Borne called the party's response a "revolting ambiguity."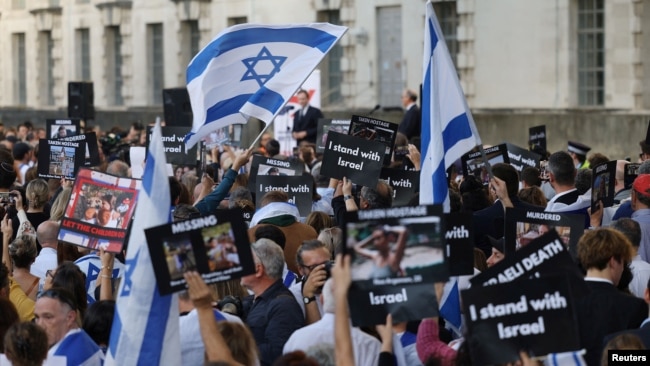 Politically fraught
Tensions in the Middle East have long boomeranged in France, where many of the country's roughly 500,000 Jews and up to 6 million Muslims hail from similar North African roots.
The country has seen a spate of antisemitic acts in recent decades, and a rise in radical Islam, especially during the spreading grip of the Islamic State in Iraq and Syria. In 2012, three students and a rabbi were gunned down by an Islamist militant in the southern city of Toulouse. In early 2015 another militant, Amedy Coulibaly, killed four shoppers at a kosher supermarket in Paris.
Over the past decade roughly 30,000 Jews have reportedly made their Aliyah, or immigration, to Israel, although the departures dropped off earlier this year. Muslims say they are also victims of slurs and attacks, although these are smaller in number and intensity.
Patrick Street, who was celebrating the Jewish holidays with family in Paris, said he kept a low profile in his home city of Lyon.
"I wouldn't walk around with a kippah on my head," he said. "I put on a baseball cap. I'm discreet."
A few years ago, many mainstream French Muslims and Jews came together in demonstrations following a spate of Islamist terrorist attacks in Paris and elsewhere that killed hundreds of people of all faiths. France's Muslim population is offering a more muted and mixed response the Hamas attacks against the Jewish state, given widespread support Palestinians still have across the Arab and Muslim worlds.
At an outdoor food market in Paris' 19th arrondissement, fruit seller Hichem Gafef from Cairo said he was simply saddened by the brutality.
"We Egyptians made peace with Israel in 1979," he said. "If there are problems, they need to be solved by politicians."
Abdallah Zekri, vice president of the French Council of the Muslim Faith, condemned the death of "innocent people on both sides," referring to both Israeli victims but also Palestinians killed in retaliatory Israeli airstrikes on Gaza. But he specifically refused to condemn Hamas.
"What is happening is distressing," Zekri said in an interview. "We need a durable peace with a Palestinian and Israeli state that live side by side."
Tareq Oubrou, rector of the Bordeaux Mosque, similarly condemned "all terrorist and savage action to the peaceful, innocent and weak." In a response by text message, he did not single out a perpetrator.
One Muslim woman who lives outside Paris, and who has long worked to build ties with her Jewish counterparts, said many like herself were fearful of speaking out. She declined to be identified, for fear of retaliation.
"We're not free," she said, describing worries of being targeted by fellow Muslims who were suspicious of French Jews and held strong, anti-Israel views. "I can't open my mouth, because the penalties are really heavy. We're afraid for our families."
Serfaty, the rabbi from the Jewish-Muslim friendship association, said the only Muslim leader to reach out to him since the Hamas attack was the imam in the French suburb where he lives.
"He came to tell me of his solidarity and his attachment to the Jewish community," Serfaty said. "I haven't heard news from the others."
Source : VOA News