LONDON — China has invested tens of billions of dollars in Europe under its Belt and Road Initiative, or BRI, which is marking its 10th birthday this month. While the funds have helped with the construction of new roads, railways and port facilities, there is concern about debt payments in some European countries. At the same time, a decade into the project, there is a growing trend of blocking Beijing's acquisition of key strategic assets amid a Western push to reduce dependence on China.
Greek port
The Greek port of Piraeus is among China's biggest acquisitions in Europe under the BRI. The Chinese state-owned shipping firm COSCO now owns a 67% share in the facility. Supporters say Beijing's money has transformed the port, with container volumes increasing five-fold since 2009.
However, critics say China has failed to meet its contractual obligation to invest $300 million in port facilities, which included expanding cruise ship facilities, new passenger terminals, hotels, warehouses, and upgrading the vehicle import terminal.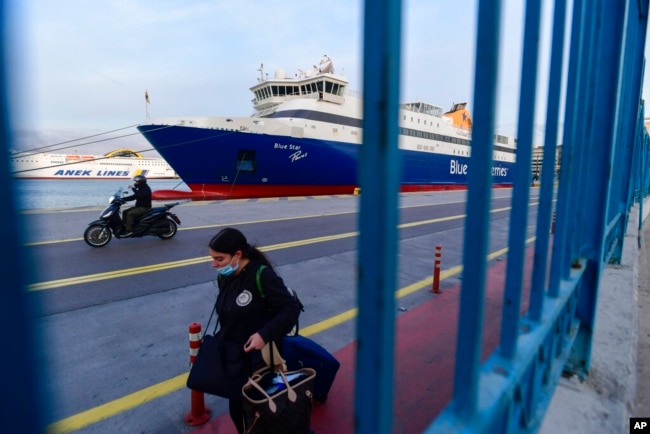 Rail routes
More than a dozen European Union states are signed up to the BRI. Beijing has funded numerous projects in the Western Balkans and Eastern Europe, including rail lines connecting China to the EU. More than 1,000 freight trains run between China and Europe every month, according to Chinese state media reports.
Hungary was among the largest global recipients of BRI investments in 2022. China has funded new highways and is building a high-speed rail link from Budapest to the Serbian capital, Belgrade, which is due to be completed in 2025. The eventual aim is to connect the rail link with Piraeus in Greece.
Debt
Not all the projects have been a success. Montenegro took a $1 billion loan from China in 2014 to build a new highway, which remains unfinished. The debt – once more than a third of Montenegro's annual budget – threatened to bankrupt the country, until a group of American and European banks stepped in to help restructure the financing.
There is some disillusionment with the BRI in Europe, says Volker Stanzel, a former German ambassador to China and now an analyst with the German Institute for International and Security Affairs.
"It has become something that is very hard to understand what its objectives actually are, for many partner countries. And it has become immensely expensive for China itself, something that maybe the initiators of this project … did not really calculate what it would amount to," Stanzel told VOA.
Italy withdrawal
In 2019, Italy became the only member of the G7 group of rich nations to join the BRI. But the government says the purported benefits have failed to materialize, and Rome looks set to pull out of the initiative later this year.
"There are European nations which in recent years haven't been part of the Belt and Road but have been able to forge more favorable relations (with China) than we have sometimes managed. The issue is how to guarantee a partnership that is beneficial for both sides, leaving aside the decision that we will take on the BRI," Italy's prime minister, Giorgia Meloni, said September 10, on the sidelines of the G20 summit in India.
Italy's government has blocked the sale to Chinese firms of some of its biggest companies, such as the tire maker Pirelli, under its so-called golden power rules. Other European states, including Germany, have sought to limit Chinese acquisitions. Earlier this year, Germany blocked the Chinese state-owned firm COSCO from buying a controlling share in the port of Hamburg.
De-risking
Meanwhile, European nations are trying to reduce their dependence on China amid a Western push to de-risk supply chains, alongside growing geopolitical tensions with Beijing.
"The increasing diplomatic costs associated with being perceived as being close to China, and at the same time the fact that the benefits – to the degree that they exist – are increasingly thin, given the broader trend towards de-risking between the West and China," said analyst Luigi Scazzieri of Brussels-based policy group the Center for European Reform, in a recent interview with VOA.
Reduced spending
China's Belt and Road spending in Europe has seen a significant decrease in recent years, said Filippo Boni of Britain's Open University, who has been tracking Chinese investments under the BRI. "What we've seen has been a recalibration if you like, a reorientation of the Belt and Road Initiative towards different regions – perhaps to China's immediate neighborhood," he told VOA.
China has rejected Western criticism of its Belt and Road Initiative. A spokesperson for the Ministry of Foreign Affairs said the BRI had attracted more than 150 countries and had brought tangible benefits to the people of all countries.
Source : VOA News