French banks have financed $154bn to firms running biggest fossil fuel projects since 2015 climate pact
France is Europe's biggest supporter of "carbon bomb" extraction projects that hold enough fossil fuels to pump out more than a gigaton of CO2 each, the Guardian can reveal.
Since world leaders gathered in the French capital to sign the Paris agreement in 2015 – where they promised to try to stop the planet heating by 1.5C above pre-industrial levels – French banks have financed companies planning or operating carbon bombs amounting to $154bn.
The carbon bombs are the 425 biggest fossil fuel extraction projects in the world. Beneath them, there is enough coal, oil and gas to burn through humanity's carbon budget to stay within 1.5C four times over, experts say.
"Fossil fuel companies and banks have implemented a cynical strategy," said Valerie Masson-Delmotte, a climate scientist at CEA Paris-Saclay who co-chaired the physical science section of the most recent report by the Intergovernmental Panel on Climate Change.
Despite an aim to become carbon neutral by 2050, she said, they were "acting now to increase the use of fossil fuels and thus emissions – deliberately ignoring one of the strongest scientific findings relating cumulative CO2 emissions with global warming levels".
Research by the French NGOs Data for Good and Éclaircies, together with European media outlets including the Guardian and Le Monde, found that French banks poured more money into the companies operating these projects than those of any other country in Europe, behind only those of China and the US.
The four French banks – BNP Paribas, BPCE Group, Crédite Agricole and Société Générale – together invested $17.8bn in 2022 in companies planning or operating carbon bombs, the research found. Over the six-year period from 2016, the recipients ranged from oil and gas companies in the US to state-owned energy companies in countries from Brazil to Saudi Arabia to China.
The original database of carbon bomb projects came from a research paper that counted 425 coalmines, oilfields and gasfields with potential lifetime emissions greater than 1 gigaton of CO2.
French researchers then matched them up with data on operators from Global Energy Monitor and data on financiers from Banking on Climate Chaos, an NGO report covering the 60 biggest banks.
For some projects, the information did not match up with the data used to identify the companies and banks. Some others were out of date or had an unclear operation status.
Lou Welgryn, the co-president of Data for Good, which led the research, said: "There is very little public and reliable data available to identify fossil projects worldwide, their total reserves, associated greenhouse gas emissions, and the actors involved.
"This opacity, in some cases, leads us to underestimate the number of projects associated with a company or the financial flows between a bank and companies operating carbon bombs."
The French energy company TotalEnergies is involved in at least two dozen carbon bomb projects around the world, the research showed.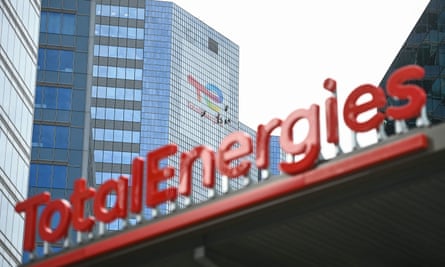 A separate report from Greenpeace last week counted 33 carbon bombs in which TotalEnergies was involved, calculated using a less conservative methodology that counted upstream emissions.
The report also found TotalEnergies was implicated in the acquisition of new exploration licences for 84 projects since 2015. Eleven of these were after 2021, when the International Energy Agency (IEA) warned that all new oil and gas exploration was incompatible with with its net zero emissions scenario.
Edina Ifticene, a fossil fuel campaigner with Greenpeace France, said TotalEnergies presented itself as providing a service to the public by meeting demand for fossil fuels. "But it is by developing new oil and gas projects that the fossil fuel industry artificially creates this demand – so they can reap outrageous profits and lock us into decades more of dependence on fossil fuels."
A spokesperson for TotalEnergies said: "The IEA forecasts growth in oil and gas production between now and 2028. In this context, we continue to invest in new oil projects to meet the still growing global demand, particularly in developing countries. And, in anticipation of the natural decline of our current fields (4% per year), to continue to guarantee our customers access to energy available at an affordable cost."
The spokesperson also pointed to TotalEnergies' plans to increase its renewable capacity fivefold by 2030, adding that the company would invest nearly €5bn in renewable and low-carbon energies in 2023 – the first time its investments into low-carbon energies would be greater than its investments into new fossil fuel projects.
"TotalEnergies is therefore implementing its ambition in a concrete way while continuing to meet the energy needs of growing global populations," the spokesperson added.
A spokesperson for BNP Paribas said it had stopped lending to some of the companies on the list, adding that one of the underlying databases contained errors that artificially inflated its figures.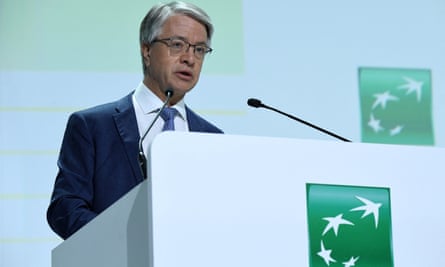 BNP Paribas updated its policies this year, the spokesperson said, and would no longer finance new oilfields and gasfields, regardless of the financing method, and that it aimed to further shift its energy-based financing to 80% for low-carbon sources by 2030. They said: "BNP Paribas has taken a proactive approach to reduce financing for highly emitting sectors."
A spokesperson for Crédit Agricole also disputed the figures in the report, saying it included double counting, and that most of the projects in the list had been in operation for many years.
They said: "We have made a commitment to no longer finance any new coalmining projects or companies developing such projects. We have also made a commitment not to finance any new oil exploration-production projects."
The spokesperson confirmed the promise referred only to project financing, not corporate financing, but said the company was committed to reducing its credit exposure to upstream oil 25% from 2020-25, in line with the IEA's net-zero scenario.
A spokesperson for BPCE Group said it supported all its customers, including big energy companies, in their energy transition and decarbonisation strategies.
"This partnership approach is essential and is more beneficial than an abrupt halt to the financing provided to customers. BPCE Group is convinced that these players, because of their technical and financial capacities, have the necessary levers to accelerate the energy transition by developing renewable and low-carbon energies."
A spokesperson for Société Générale said it had set "some of the most ambitious targets in our industry" in September. These included reducing its exposure to oil and gas production 80% by 2030 compared with 2019 levels, ending support from 2024 for new oilfields and gasfields for which a final investment decision was taken after 2021, and stopping offers of financial products and services to any private company that derives almost all of its revenues from upstream oil and gas activities.
Big energy companies often have enough money to finance their own exploration projects. But campaigners say banks could still defuse carbon bombs by refusing to finance their operators.
"Just by virtue of their scale, the biggest banks in the world can offer better interest rates," said Joe Thwaites, a sustainable finance campaigner at Natural Resources Defense Council. "If you have major financiers refusing to finance fossil fuels, it's not to say that the extraction companies won't be able to find other sources, but they may have to pay a premium. It's the equivalent of if you're unable to go to a high street bank and you're forced to go to a loan shark."
Banks often argue that if they do not finance fossil fuel projects, somebody else will, he added. "That's the drug dealer's defence."
Source : The Guardian